Fridge goals: tips to keep your food fresher, tastier, and not forgotten
May 6, 2020
Organizing a well-stocked fridge should be a priority: after all, if there's one time we don't want to be searching for something it's when we're HUNGRY. But for even the most organized among us, the fridge is often where things get squished, sticky, and forgotten. So are tips from a professional home organizer on where to put your food: keeping it fresher longer, tasting better, and definitely not lost or forgotten.
Step-by-step guide to create an organized fridge
If you've been following me on Instagram or read my other blog posts, you'll know that I believe that there's nothing that shouldn't be sorted and contained. That includes a fridge, my friends! Here are my top 5 tips to create an easy-to-access fridge: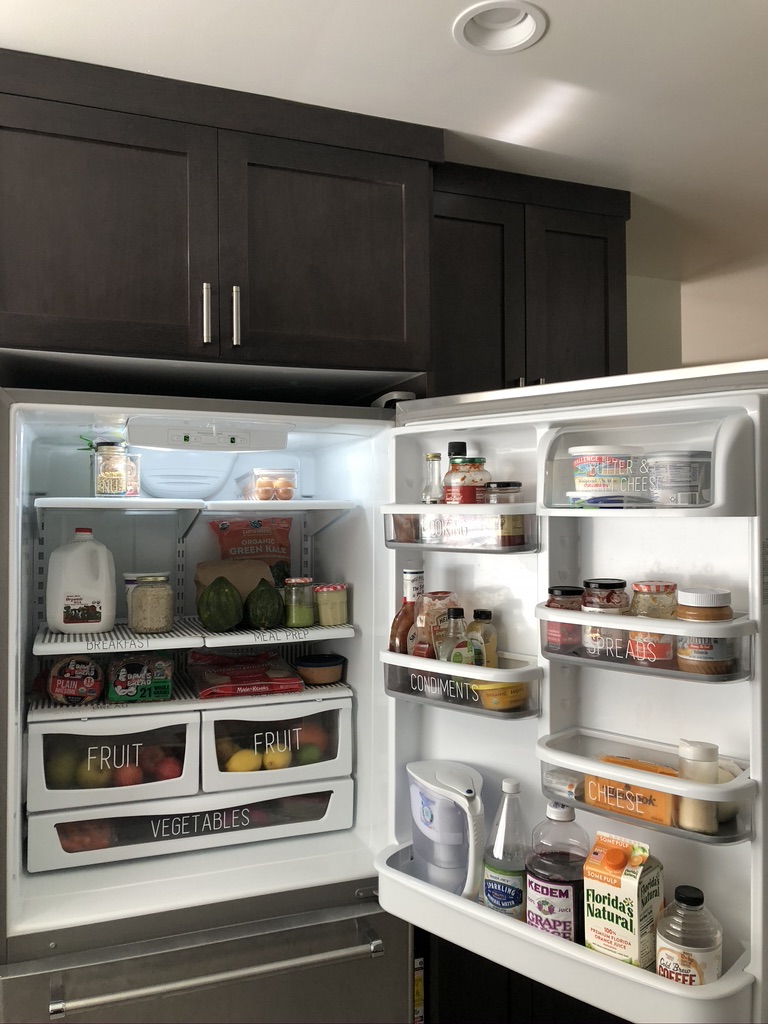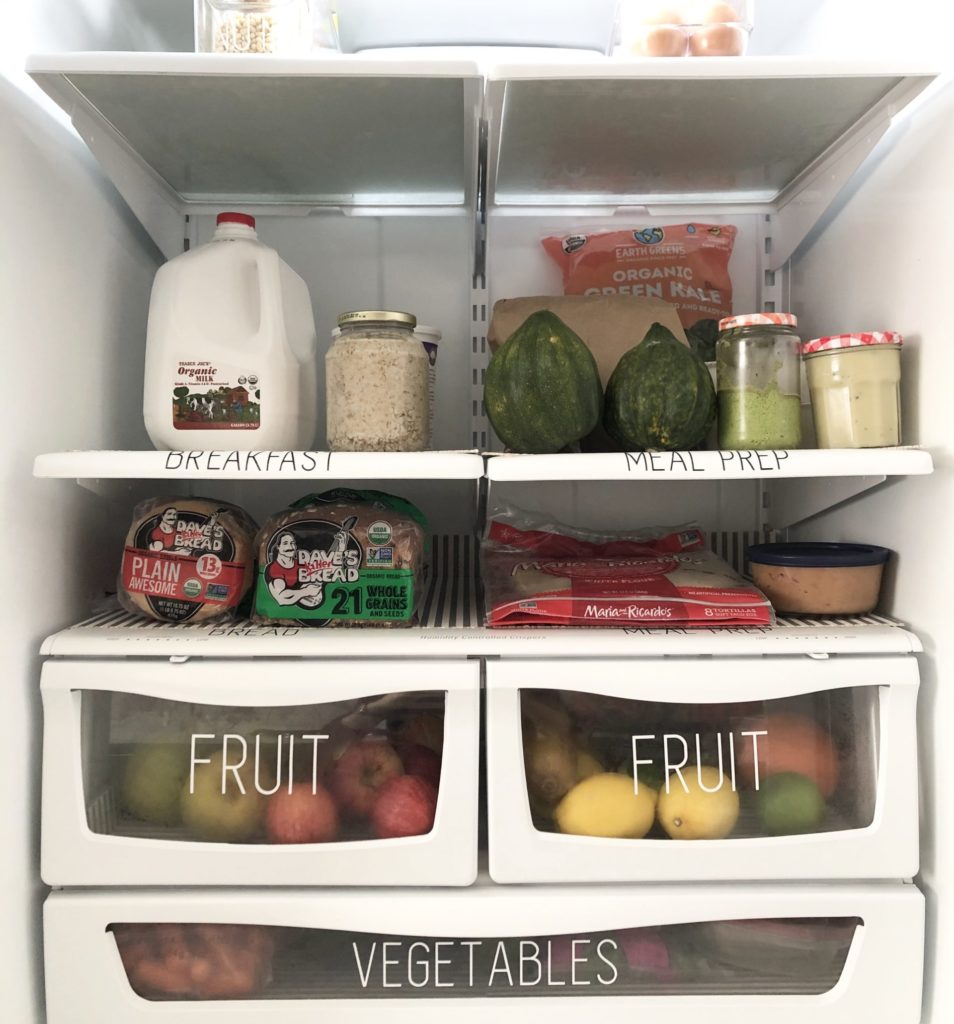 1. Clean out
Take everything out and wipe down the shelves. My cleaners of choice? Dr Bronners castile soap (dilute it with water in a spray bottle – my fav scent is the lavender one) or vinegar. Compost the expired food and wipe down the drips from the sides of jars and containers. A full fridge re-set doesn't need to be done all the time, but small, frequent steps on a regular basis will prevent you from a massive undertaking when you do decide to tackle it.
2. Keep it fresh
Search the internet for "shelf liner" and you'll get a ton of links for reusable shelf liners. While reusable products are usually my go-to, a reusable shelf liner doesn't cut out any work; instead, you'll just be wiping down a piece of plastic.
My recommendation? Check out Fridge Coasters. They are a sustainable shelf liner that catches drips, absorbs odors, and comes in the most adorable colors and patterns. They are 100% compostable, so when they get overly soiled, compost it and swap it out for a new one. The packaging was quite sustainable, as well, using recyclable materials (including #4 recyclable plastic film). They come in a variety of sizes, and each liner has perforated lines so you can easily customize it to the exact dimension of your fridge shelf. Works really well in produce bins, too, where things can often get a little soggy 🙂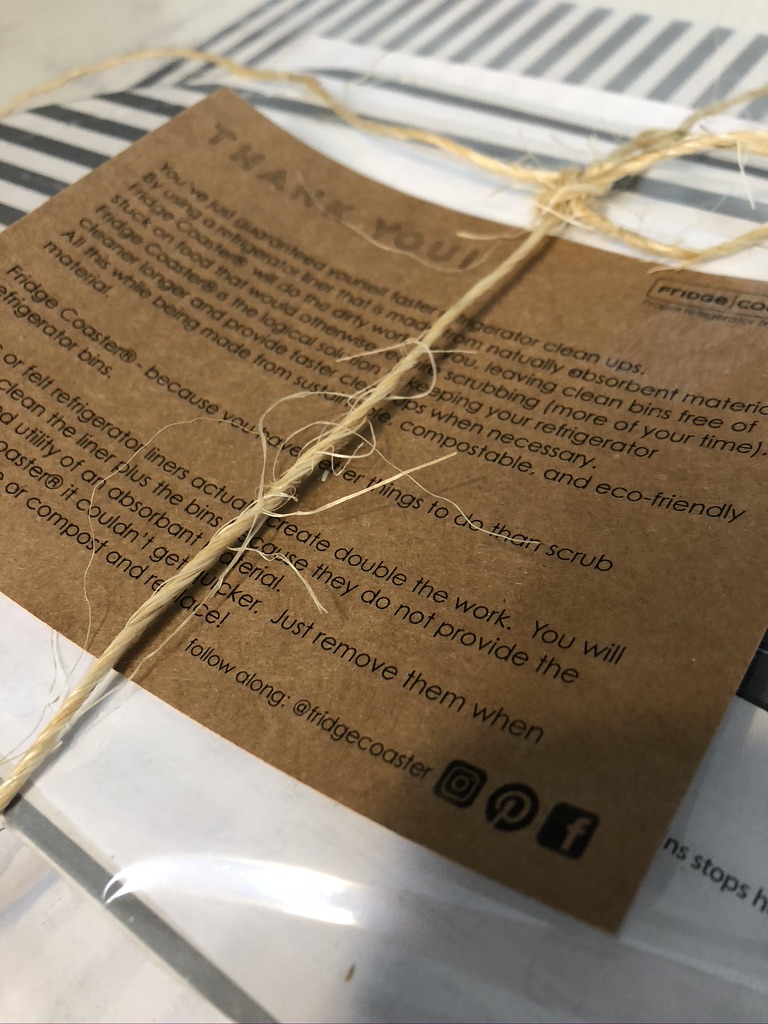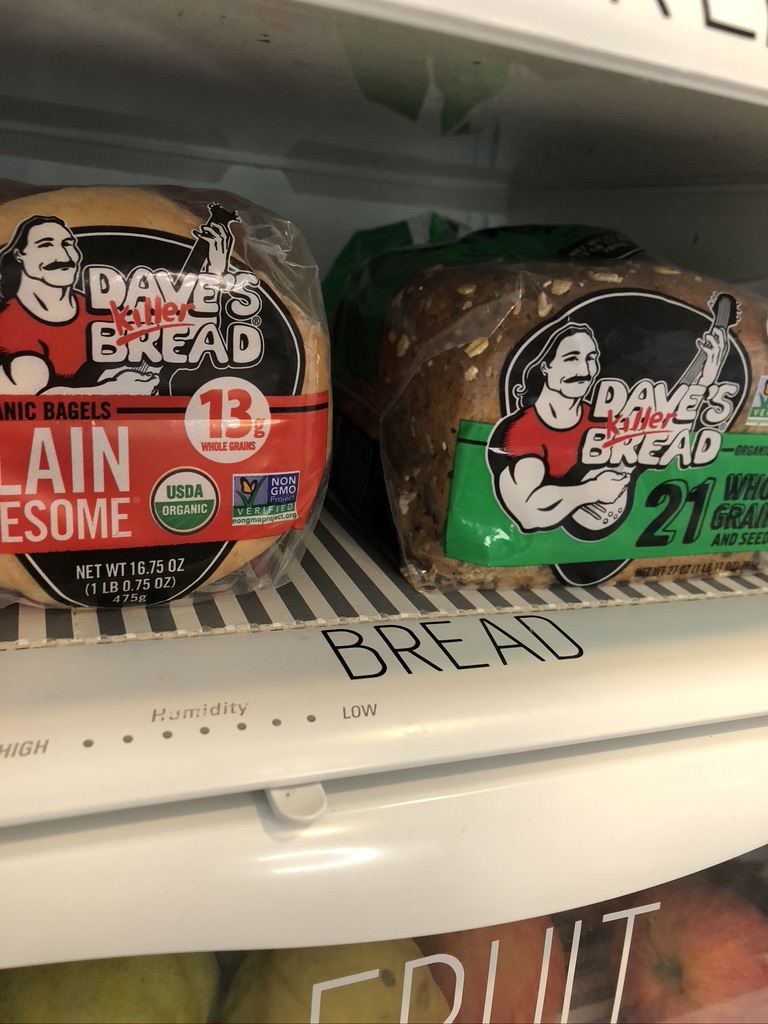 3. Sort & create zones
Keeping your food items sorted will make the search for the strawberry jam that much easier – keep it next to the peanut butter, perhaps? More tips on where to keep each item is below.
4. Contain & divide
Bins, such as the fridge line from iDesign, make it easier to compartmentalize your items. Drawer dividers are also a helpful product in drawers, separating types of produce, proteins, and snacks.
5. Label
Want to take it to the next level? Message me for custom vinyl fridge labels.

Food storage tips
Knowing where to store your food is more than just finding the right sized spot to stash it. Different parts of the fridge are different temps and have different humidity settings. Read on so that your food stays fresher, longer: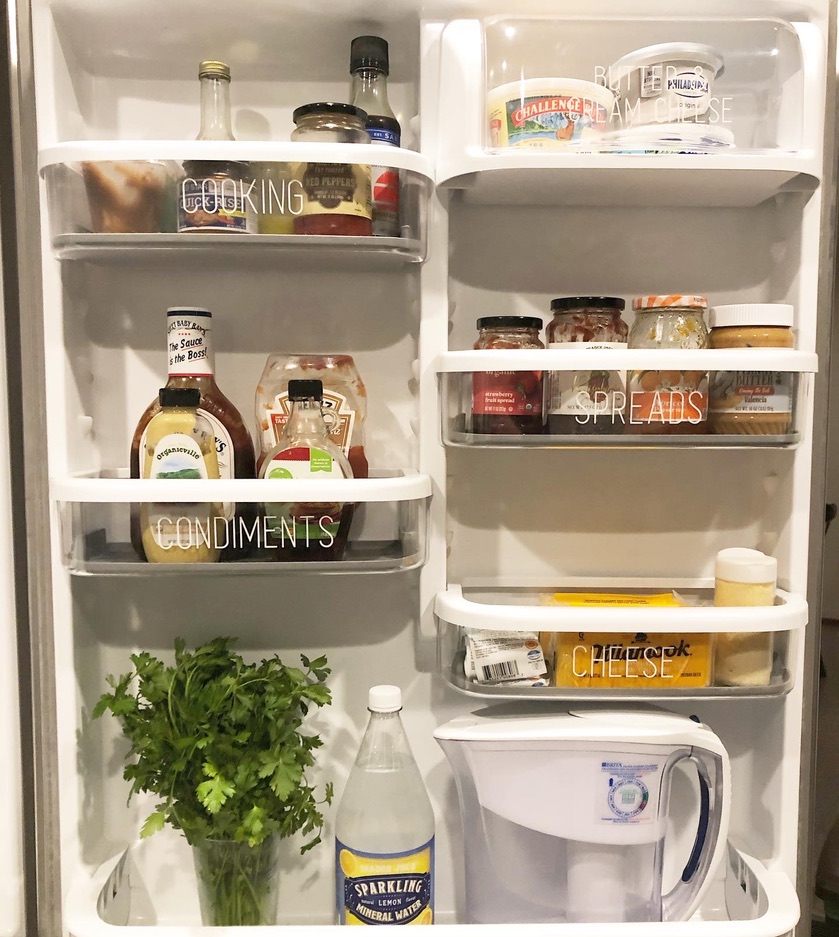 MILK:  it's sure convenient on the side door – easy to access right? Not so fast. Keep it in the back, where it's coldest. Did you buy two gallons? Keep the newest one in the back, just like they do in the grocery store.
CONDIMENTS: Those side compartments are perfect for the less-perishable items.
TOMATOES: Keep em out of the fridge, my friends! On the counter, so they don't get mealy. Also, if you're a fan of the cherry or grape varieties, a counter basket makes them an easily accessible and pop-able snack.
HERBS: Treat those delicate leaves like parsley and cilantro like a bouquet of flowers: a glass jar filled with a few inches of water. Works well for asparagus, too.
ONIONS & POTATOES: They taste amazing roasted together. But raw? Separate those babies! They are both best kept in dark, humid-free environments, like a pantry, but in separate areas since they can make the onions spoil faster. Pressed for space? You can keep onions in the fridge if you store them in their own produce bin, with the humidity level set low.
FRUIT: Apples + pears can hang out in a produce bin (low-humidity setting!), but keep them away from stone fruits and berries, as apples emit gasses that can make those delicate fruits spoil.
VEGETABLES: Can't eat your veggies quick enough? Many, like carrots, snap peas, green beans, and more can be frozen and used later. To prevent freezer burn, blanch them in boiling water for a minute first.
LEFTOVERS: I prefer to store food in glass containers, such as these. But don't discount reusing glass jars from grocery store staples like tomato sauce and applesauce. Glass makes it 1) easier to see what you have stored and 2) can be reheated without needing to transfer.
What other questions do you have about keeping an organized fridge? Comment below!